Convert Video to DVD
Looking to convert video to DVD? Then read on…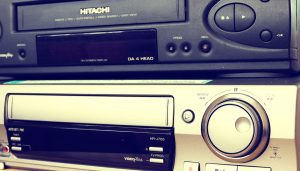 ---
The DVD, the digital versatile disc, arrived over 20 years ago, and the flexibility and convenience it offered began the long, slow decline of video cassette tapes, with the last maker of VHS-compatible video cassette recorders, Japanese manufacturer Funai Electric, stopping production in July 2016.
Bet you don't have a VHS player under your 60″ flat panel smart TV?
But whether your video recorder has long since given up the ghost, or you just "went digital" and consigned it to the back of the cupboard, the opportunities to find replacement equipment to ever play your treasured home videos again are if not pretty much over, then at the very least they are steadily on the decline.
---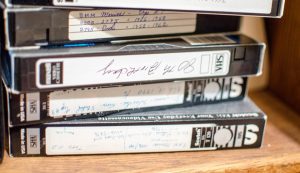 But all is NOT lost. That DOESN'T mean your much loved wedding video, or home movies of the kids growing up, happy Christmases or nostalgic summer holidays, should be consigned to the scrap heap, because at Caledonian Digital we convert video to DVD! We can convert your treasured VHS, compact-VHS, or hi-8 video tapes to digital and record them to disk so you can enjoy them for years to come. So don't give up on them, just get in touch now!
***  We can now also convert your digital mini-DV tapes to DVD ***
We can simply copy everything on your tapes to disk, or we can edit out any noise or set up chapters and provide a menu – it's up to you how much or how little we do. Prices start from £20 for a basic transfer.
Don't worry if you have lots of small camcorder tapes with only a little actual footage on them – you won't need a second mortgage to pay for them! You only pay for the number of disks it takes to hold your videos, so if you have 5 tapes and the running time of the actual video on each all fit on 1 DVD, then you are only paying for 1 disk @ £20 (not for 5 tapes).
---
And if you have a collection of slides or negatives or a lifetime collection of photos we can help convert these as well. Follow the links to find out more.