Photo Repair and Restoration
With our photo repair and restoration services we can fix all types of damage and deterioration. We provide a no-obligation, no money up front, quality service, at an affordable price, so let us help you preserve your crumbling photos. Whatever your project size, big or small we do it all.
It's almost impossible to list every type of damage we can restore. However if what you are looking for isn't specifically listed, then don't give up. When you think about it outside the context of your photo then it's probably similar to something we have listed already. Most importantly, if you're still not sure please get in touch and ask us.
For example we can:
repair tears & scratches
remove folds & creases
stitch torn photos back together
replace missing corners
remove blemishes or spots
restore discolouration
remove ink, coffee, wine stains
repair water damage
repair surface breakdown
Set higher standards for your photos, and demand more! Every photo deserves a second chance – every photo can be improved. So don't give up on your crumbling, fading, or damaged photos, as Caledonian Digital can help make them a thing of the past.
Get in touch with us TODAY! All our contact details can be found on our Contact Us page.
If the list above doesn't cover what you need, check out the services described in our photo enhancement or  photo editing pages. Whatever you are thinking of, we can do it!
Photo Restoration Examples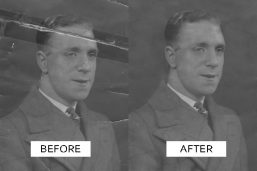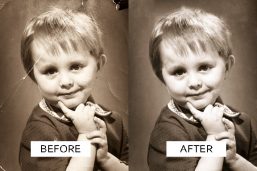 and remember…
you don't pay upfront

you see a proof image first

we work on digital copies

original photos are unharmed

we care for your originals

free print with every order

pay securely using Paypal

100% satisfaction guaranteed

your privacy is protected

fast, friendly, affordable